Canaan Blueberries is a pick. your own blueberry farm located east of Ottawa, near the City of Rockland.
<> The farm's telephone number is 613-833-2069 and its civic address is 2351 Canaan Road, Sarsfield, Ontario. Do not use your GPS as a guide as it will take you 20 km south
of the farm.

<> During the picking season , this web site as well as the telephone messaging service is updated constantly to provide status of picking conditions, opening and closing hours. We expect this year to be a short picking season and request that check this web site or call ahead before you visit the farm.

> Our prices are $2.85 per pound for the pick your own blueberries.
We provide the baskets at no cost to you and you pay for the weight of the berries that you have picked.
<> We accept only cash or cheques

Note > We no longer sell pre-picked baskets.
On your visits to our farm , please :
- Leave your pets at home .
- Stay in your designated picking area.
- Leave benches to where you finish off in your picking row. If you need another row, see the Guide person.
- Be careful while picking not to harm the plants or remaining fruit. Sample a few berris pay for the rest.
- Children are welcome but please supervise them at all times.
- Throwing berries, rude/abusive or destructive behavior or disturbing other pickers will not be tolerated.
<> The farm is not able to accommodate group visits.

<> The farm also maintains beehives and sells fresh, pure honey along with the blueberries.
The 2014 price for honey is $12 for a 1 kilogram
( 2.2 lb) jar.

<> Our email address is : <>
We hope that you plan a visit to our farm this season and we look forward to welcoming you.
Sincerely,
M&B
Map > Do not use GPS



Why Blueberries Are The Best Source Of Antioxidants

The best source of antioxidants you can eat is from blueberries antioxidants. Antioxidants are a group of vitamins, minerals and enzymes that work together to help neutralize harmful free radicals that can increase your risk or certain cancers, diabetes, heart disease, and many other age-related diseases. Harmful free radicals are caused by exposure to radiation, chemicals, pollution, drugs, pesticides, alcohol, junk food, and even sunshine.

What Are the Antioxidants in Blueberries?

Anthocyanins, which are highly concentrated in the deep blue pigment of blueberries, are the best source of antioxidants. The darker the blueberries are, the more antioxidants they contain. Wild blueberries from lowbush blueberry plants are known to have more antioxidants than cultivated blueberries from highbush blueberry plants.

What About Other Fruits and Vegetables?

When compared to other fresh fruits and vegetables, the antioxidant powers of blueberries outrank all others. Grapes, strawberries, kale, and spinach also contain antioxidants, but only a fraction as much as blueberries. Fruits and vegetables that are dark colored tend to contain more antioxidants than light colored fruits and vegetables.

To help your body neutralize harmful free radicals, eat plenty of blueberries.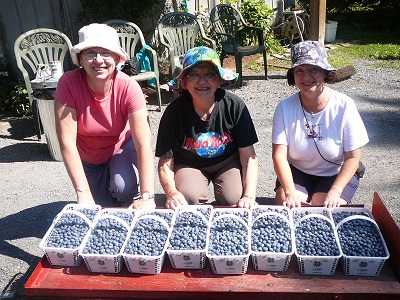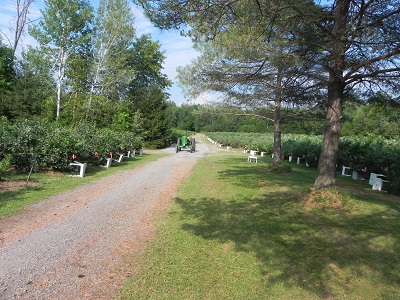 file:///C:/Users/morlen/Desktop/webpage/DSCN2927.JPG
file:///C:/Users/morlen/Desktop/webpage/DSCN2927.JPG